We provide the foundation, inspiration and expert guidance to build your brand.
Positioning Framework
What sets you apart from the competition, who is your target market, what words and images do you use to communicate with them? We perform a thorough sweep of your brand, competition, industry, goals, and current marketing efforts to reveal the core truths about your organization.
If yours is like most companies, you have staff that is stretched beyond their normal duties. In that environment, branding often falls short due to a lack of focus and the need to break from normal work to come up with something awesomely creative. Fortunately, that's what we do all the time, and we love helping others get ahead.
We advise marketing managers, communication directors, designers, developers and data miners to address the right audience with the right information.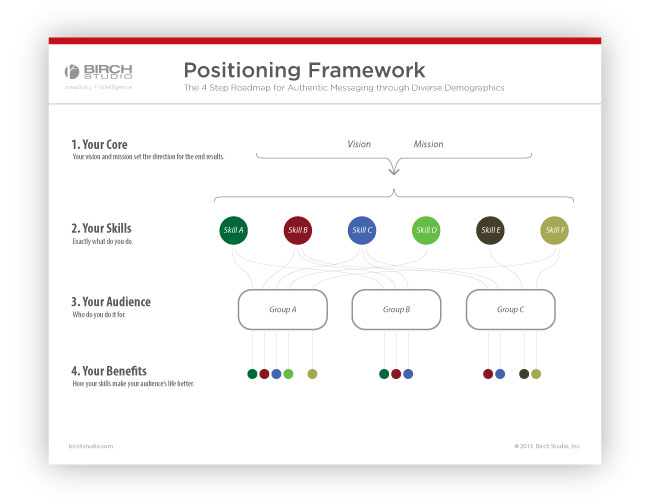 Marketing
Strategic Marketing Package
If you know you need to build a brand through print and web-based collateral but aren't sure exactly what to build or how your audience will receive it, our Strategic Marketing package should be the cornerstone of your marketing plan. We perform a thorough sweep of all of your current marketing efforts, your industry, brand, organization, competition and goals. Using client-based research, we gain a clear understanding of the overlap between your vision, your staff's expertise and your clients' needs. From our findings, we organize your efforts and create a coordinated, optimized plan to help you get the most out of your advertising budget. The end result is a dynamic, self-reinforcing plan that is easy to understand and easy to execute.
Includes:
• Diagnostic survey of your industry
• Review and cataloging of your current marketing efforts
• Personalized interviews with your clients and your organization
• Recommendations on the primary motivations of your clients
• Strategic recommendations organized in a 12-month matrix
Tactics
Tactics is where the rubber meets the road. In this module, we determine how to promote the messages developed in the Positioning Framework. The deliverable from this is a written Marketing Plan with specific objectives, targets and metrics.
Execution
If you have the hands to get the work done, we provide you with a Branding Guide and let you get to work. If you need help executing the plans, we can offer our services to do some or all of the work and provide hand-off training at the tail end so you can maintain the work down the line.
With Birch Consulting, you apply your team's skills to the project as before, but you'll be starting from a better vantage point. We even check back to see how you're doing. See Design & Build for more information about how to put our hands to work for you.
---
Get Started