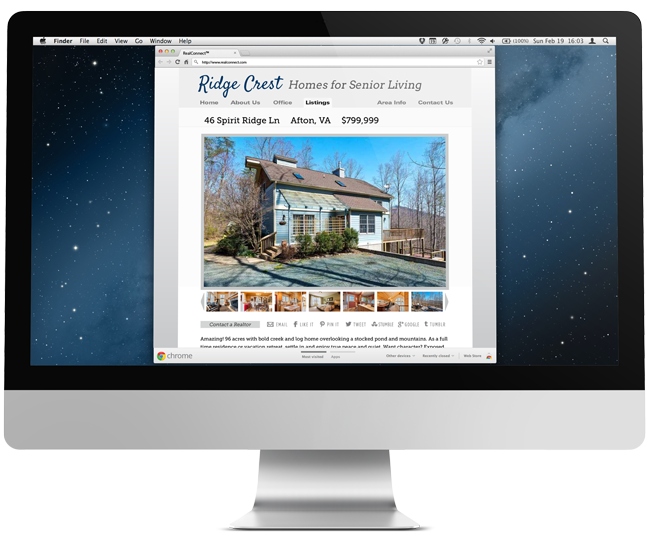 RealConnect is a web-based application that enables Realtors to display MLS/IDX property listings on your website with unparalleled power, flexibility and brand compatibility.
Flexibility to reach your niche:
The RealConnect platform gives you the flexibility to build your website on your terms (not just an MLS data dump) and to allow your unique brand to shine through.
Insight through integrated metrics:
Knowing your past prepares you for the future. From website traffic analytics to social media referrals to email click-throughs, RealConnect delivers the insight you need to methodically generate leads and sales.
Backed by experienced professionals:
RealConnect is backed by Birch Studio, a professional firm with over 20 years of experience building brands and developing websites. We bring comprehensive design and development expertise for all of your marketing needs.
Add real estate listings to your website and present your unique brand in virtually any manner.
RealConnect allows you to select unique content and branding to set you apart from other Realtors. Custom searches, featured listings, additional details and supporting sales materials are all included to ensure that your most fundamental digital asset reflects you accurately.
The web-based MLS application runs silently in the background and updates listings on real estate websites as quickly as every two hours. It can be added to existing real estate websites or built into new custom websites. With its auto-download feature, the core of RealConnect runs without any intervention. Update your information on your MLS and it shows up automatically on your custom real estate website. RealConnect works with any MLS using modern RETS real estate website protocols.
RealConnect helps you:
Increase your web traffic, online engagement and search engine optimization of your real estate website
Provide the most relevant information to your prospects with a flexible, customizable platform
Provide detailed information directly on your website with accurate MLS listings updated throughout the day
Gain attention in social media with built-in social tools that you and your clients can use
Level 1
Level 2
Level 3
Listing Summary Pages show search results
Listing Details Pages show public details and documents
Create pages based on brokerage, agent, neighborhood, days on market, etc.
Multi-faceted search lets users find what they want quickly
Listings updated every two hours, 24/7
New features added regularly
Search Engine Friendly
Bug fixes through regular updates
Product support by phone, email and text
Customizable pages for your agents (listings, bios, social media links, etc. all in one place)
Google Analytics report on your top 25 listings and click-throughs
Discount on website maintenance plan
10% discount
15% discount
Summary and Detail page templates customized to display your preferred content
Custom listings module (allows you to include sold listings, coming soon, listings from other MLSs)
Rotating agent module (shows a different one of your agents each time the page is loaded)
Community pages with listings displayed on Google maps

All plans have a one-time, $120 set up. Fee is waived with annual advance payment.

$79

/month

$99

/month

$129

/month
Read our blog posts on Realtor website marketing:
3 Steps to Distinguish Yourself as a Realtor Real Estate Website Branding How to Measure and Analyze the Performance of your Real Estate Website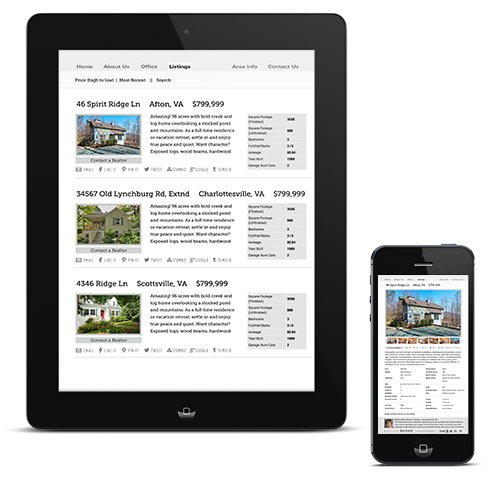 Mobile-friendly design makes our RealConnect MLS site for Realtors easy to browse on the go.
About 50% of website visits are done on a mobile device now. Whether they visit your site on phone, tablet or desktop, our MLS software for Realtor websites is mobile-friendly, responsive and ready to go.
---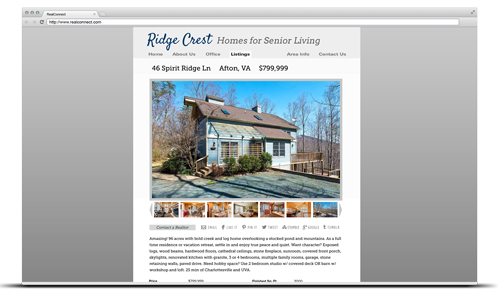 Detailed property information, customized to match your website design.
Perhaps the most unique part of RealConnect is how it can blend so well into your WordPress website to make a well-branded custom real estate website with up to date listings.
---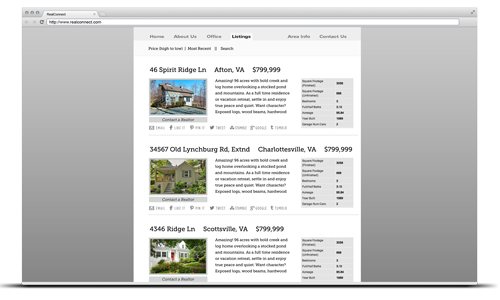 Easy to browse search result pages with social sharing buttons.
The search results page can contain any defined group or category of listings, such as all listins from your brokerage, all listings in a certain neighborhood, real estate listings limited to specific price range, etc. RealConnect includes social media links that allow visitors to share your pages and listings on Facebook and Twitter. Every listing has a unique URL that can be used as long as the listing is active on the MLS.
---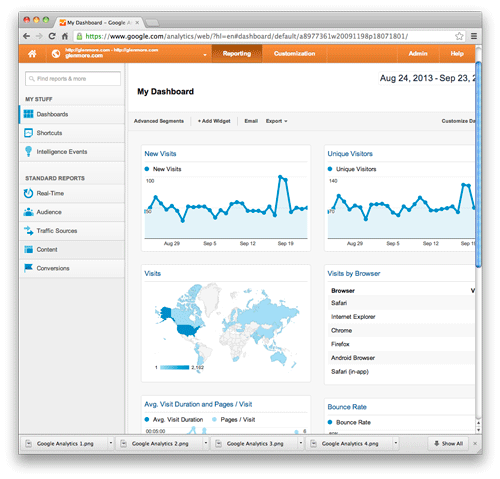 Track your site traffic with Google Analytics reports.
When we use Google Analytics to monitor the traffic on your real estate website, you can see which listings were clicked on most, where your visitors are coming from and what pages on your site get the most action.
What is RealConnect?
RealConnect is web-based software that imports MLS data into your website on a regular basis.
Does it run on PC and Mac? How about mobile?
Yes. Anybody with a computer connected to the internet can view the information on your website. Even on mobile devices.
Why will my customers like it?
RealConnect allows you to offer them more information than any other MLS tool out there. Unlimited pictures, virtual tours, brochures, special comments and more. Advanced Search lets them match any detail associated with the property, including a full-text search in the description field.
Why will I like it?
Your customers and prospects get to see all of the properties you want them to, sorted in any way that you like. They can easily share listings with friends and family.
How accurate is it?
We get the information straight from your MLS, so it's as accurate as the information put into the MLS back-end by all of the Realtors in the MLS. New listings are added to your website every 2 hours.
Is it always online?
We offer a 99.99% uptime guarantee for RealConnect. Periodic maintenance is done outside of normal business hours and typically lasts less than a half an hour.
What do I need to do to keep it running?
Nothing at all. But, it is helpful for your search engine rankings to add content to your site, especially on pages that you can optimize to draw in people seeking specific types of listings in specific areas.
---
RealConnect is a robust MLS solution that embeds active listings in your website and puts you at the head of the class for real estate websites. It allows you to have the highest level of customization in both style and function and provides more opportunity for branding, SEO, and defining your niche.
---